Onyx lamps bring a touch of elegance and sophistication to any space. The translucent properties of onyx create a mesmerizing glow when the lamp is lit, making it a captivating focal point in any high end home decor.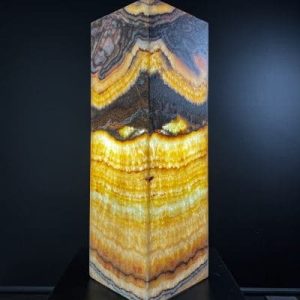 If you're wondering how to incorporate onyx lamps into your interior design, here are a few basic tips from Cagliostro Luxury designers to achieve a remarkably stunning look:
Place an onyx lamp on a side table or console to create ambient lighting and add a warm and inviting atmosphere to your living room or bedroom. The soft glow of the onyx will create a beautiful ambiance, perfect for relaxation or entertaining guests.
Onyx lamps beautifully complement natural elements such as wood, marble, or metal. Consider placing an onyx lamp on a wooden side table or pairing it with a marble countertop or metal accents in your decor.
Use one of a kind onyx lighting as a statement piece in your room. Its unique beauty and intricate patterns make it a work of art on its own. Whether you choose a table lamp or a floor lamp, let it take center stage and become a conversation starter in your home.
Quality onyx lamps work well with both light and dark color schemes. For a striking look, place an onyx lamp against a white or light-colored wall to create a stunning contrast.
Don't be afraid to mix and match different materials and styles. Combine an onyx lamp with other types of lighting, such as crystal chandeliers or sleek metal pendant lights, to create an eclectic and visually complex lighting scheme.